CNC Wire Saw Machine GBSJ-1500/1800/2200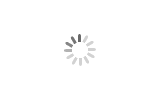 CNC Wire Saw Machine GBSJ-1500/1800/2200
GREAT BASE (GB machine) GBSJ-1500/1800/2000 CNC Wire Saw Machine is designed and produced by our GREAT BASE factory, China stone machine manufacturer, Hand operation stone special shape profile cutting machine. It is one manual sawing machine for processing and molding gravestones, lanterns etc. special-shape stone material. In China we mainly use this stone cutting machine for tombstone cutting, special shape stone product cutting, it is very simple structure machine, and easy to operate,movements of cutter head up and down, in and out by buttons, tabl This machine is equipped with a placement worktable. The front and back cutting movement distance is 1000mm. The whole machine is flexible and convenient, the processed surface is smooth and straight.GREAT BASE (GB machine) worked in stone processing machine industry nearly 20 years, our GREAT BASE (GB machine) different types stone processing machine working in more than 60 countries and we have several partners in different countries or area. We can provide professional solution and good service for all of our abroad clients about stone cutting, polishing, edge cutting, special shape processing.
Hot sale wire saw machine for block levering/big block cutting/big slab wire saw cutting wire saw
GBSJ-1500/1800/2000 CNC Wire Saw Machine
Introduction :
Great Base (GB machine) GBSJ-1500/1800/2000 CNC Wire Saw Machine is single wire saw, can be used for block levering, thick slab cutting, cutting big block into small pcs and ect.
Normal cutting
l Line speed
Adjust according to materials and size of blocks. The harder the material is, or the wider the block is, lower line speed is needed; high line speed will cause polishing of wire, and low line speed will cause oval shape or conicity of beads. Suggested as follow:
Granite Class 1~4: 28-31m/s(the frequency of main motor:50-54HZ)
Granite Class 5 or higher: 24~27m/s(the frequency of main motor:43-48HZ)
Marble and material highly abrasive: 30~33m/s(the frequency of main motor:53-58HZ)
l Current: current is decided by downfeed, cooling water, better below 22A
l Tension: 6MPA(320kg for diameter9mm diamond wire)
l Cooling water: The quantity of water is recommended as 1.5~2 times of the diameters of wire (12-25L/min). Adjust the quantity according to the noise and the dust in the water. Quantity of water should not be too much, which will cause the polishing of wire and decreasing of efficiency.
l Downfeed
Since the block upper face is not flat, in case of wire crashing, breaking, the machine should turn to manual mode, the downfeed should be 20~30% lower than normal. Turn to automatically mode after the wire going into the block.
Adjust the downfeed according not only to cutting type, material, size of block, but also to the condition of diamonds and arc of the wire. The distance of bend of wire between top of wire and both side when you are cutting stone less than 50mm is normal. If more than 50mm, you need to decrease the downfeed. meanwhile according the electric current of main motor to adjust the downfeed. below 22A for main motor is better.
The experimental parameter of granite cutting is:
| | |
| --- | --- |
| Class | Efficiency(m2/h) |
| 1~3 | 0.8~2.5 |
| 4 | 0.5~1 |
| 5 | 0.3~0.7 |
| 6 | <0.3 |
| | | | |
| --- | --- | --- | --- |
| Material | Length of block | Hardness | Downfeed (mm/min) |
| Granite | Less than 1m | Hard | 10~15 |
| | Between 1m to 2m | | 7~10 |
| | More than 2m | | 4~7 |
| | Less than 1m | Medium | 15~18 |
| | Between 1m to 2m | | 10~15 |
| | More than 2m | | 7~10 |
| | Less than 1m | Soft | 18~25 |
| | Between 1m to 2m | | 15~18 |
| | More than 2m | | 10~15 |
| Marble | Less than 1m | Hard | 20~25 |
| | Between 1m to 2m | | 15~20 |
| | More than 2m | | 10~15 |
| | Less than 1m | Medium | 25~30 |
| | Between 1m to 2m | | 18~25 |
| | More than 2m | | 15~18 |
| | Less than 1m | Soft | 30-35 |
| | Between 1m to 2m | | 25~30 |
| | More than 2m | | 18~25 |
Notice that low downfeed will cause low pressure. The bond of the beads won't be consumed and the diamonds can't be exposed continuously, which will lead to polishing problem eventually. High downfeed is easier to cause marks or other slab quality problems. So the downfeed should be controlled properly.
l Block arrangement
It's highly recommended to cut several soft blocks before cutting a hard block. This method will increase the efficiency and lifespan of the wire.
l About efficiency
As diamond wire is one kind of soft tool, its efficiency is low than disk saw. So do not increase the efficiency too much or it will cause cable breaking, polishing, decreasing of lifespan and quality of slabs.
l Wear of joint
Operators must check the joint and the beads nearby before every cutting. Joint must be changed when worn out or got loose.
l Protection
Prevent the block from falling when cutting finishes. When the cutting is half done, insert enough wedges.
l Regular checking
Check the shape of the beads every cutting, in case of oval shape.
Check the joint and the beads nearby, change the joint when needed.
Check the tension force, within the range of 5-6Mpa
Specification:





GBSJ-1500

GBSJ-1800

GBSJ-2200

Diameter of wire

mm

φ8-φ10

Φ8-φ10

φ8-φ10

Length of wire

mm

17300

19300

21500

Max.processing size

mm

3000x2000

x1500

3300x2000

x1800

3600x2000

x2100

Main motor

kw

11

11

15
Advantage of GB machine
1) GREAT BASE products 90% is for export, GBSJ-1500/1800/2000 CNC Wire Saw Machine 's main beam, head stock, up/down system top and bottom plate all are heavy duty, thick, processed well iron casting material,
2) Adopting advanced world famous brand components in electric parts .
3) GBSJ series granite cutting machine adopts special design for the up/down parts, head stock and axis, all these design is improved based on our experience in domestic and abroad clients' feedback, ensure higher production capacity and higher precision.
4) We are professional stone processing machine supplier located in XIAMEN, CHINA, nearly 20 years in stone processing machine industry
More detailed machine parts photos: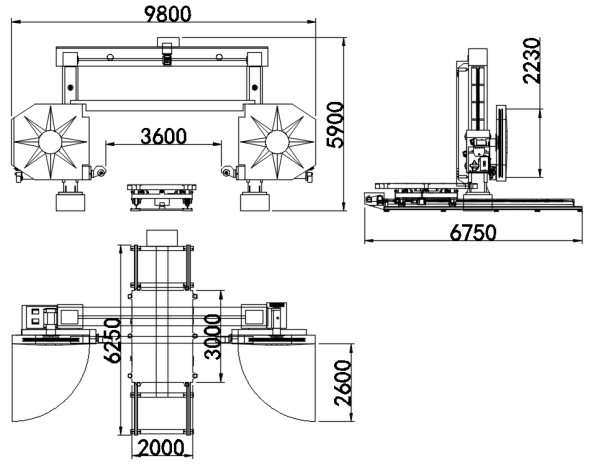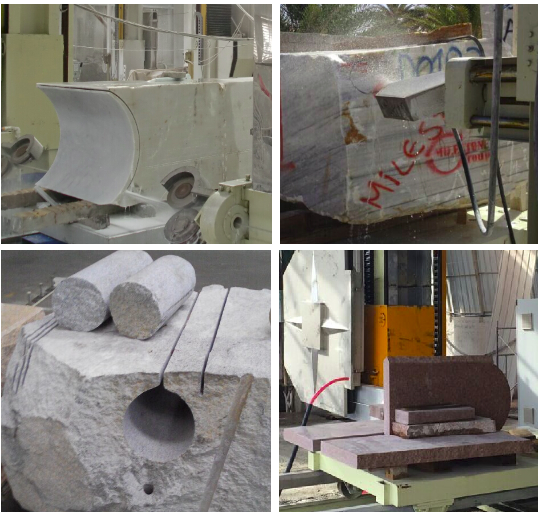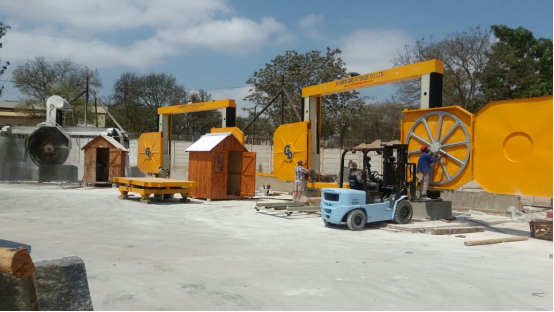 Our Service
Pre-Sales Service
* Inquiry and consulting support.
* Sample testing support.
* View our Factory.
After-Sales Service
* Training how to install the machine, training how to use the machine.
* Engineers available to service machinery overseas.
FAQ
1. Do you have more stone machines?
Yes, we can produce all series of stone processing machines with competitive price and high quality.
2. Do you have agent?
We don't have agent as we all sell directly to our customer, in this way, the customer can get lowest cost.
3. How much is this machine?
Please tell me your stone is granite or marble, the size, your destination port, so that I can quote you best price.
4. How long can I get my product?
Normally it takes 30 days to produce our products.